Outdoor Lighting
Washington DC Outdoor Landscape Lighting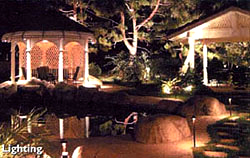 Landscape Lighting is one of the premier ways to add beauty and elegance to your home and garden. From accenting structural elements of a building to focusing attention to particular area of the yard, landscape lighting adds drama by producing interesting shadows throughout various surfaces. The right combination of landscape lighting fixtures and layout will augment the look of a property and its landscaping.

Interstate Irrigation and Lighting is a premier business dedicated to providing you and your home the type of landscape lighting that it needs.
Serving Washington DC and Montgomery County including Adams Morgan, Capitol Hill, Chevy Chase, Cleveland Park, Columbia Heights, Downtown, Dupont Circle, Foggy Bottom, Georgetown, Logan Circle, Mount Pleasant, Woodley Park, Bethesda, Potomac, Rockville and Aspen Hill. Now serving Montgomery County in Maryland.
Outdoor Lighting Services include: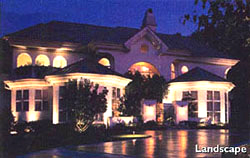 Landscape Lighting
Deck Lighting
Accent Lighting
Custom outdoor lighting
Low voltage lighting installation
Landscape lighting is extremely useful, and in an area like Washington DC, landscape lighting is beneficial all year, from those hot summer days to those long winter nights.
A little light can add a world of difference to the way your home is perceived by neighbors, guests, and even yourself.
There is no doubt that you have driven through Washington DC and at some point have seen homes that utilized landscape lighting. These houses stand out from the crowd, and when landscape lighting is done correctly the attractiveness that it produces is undeniable.
Besides the benefits listed above, another advantage of installing landscape lighting in your Washington DC home is the security that it provides you and your family. It is a fact that light in and surrounding your home acts as a deterrent to possible burglars. Your family's safety is one thing that you cannot put a price on, and with landscape lighting you are able to protect them in a way that is professional and elegant. With your property well defined and your house well lit, potential thieves will be sure to avoid your house.
Landscape lighting is a great way to increase the property value of your home and make it much more appealing to those that pass by it. Light defines space and creates depth, making your property seem larger and more homely at the same time. Light can be used to highlight points of interest, and is a great mood setter. If you are interested in landscape lighting and live in the Washington DC area, contact Interstate Irrigation and Lighting.
Lawn sprinkler service, Washington, DC area - Interstate Irrigation and Lighting - Approved Contractor for Rainbird, Toro, Hunter and Weathermatic - Metro Area landscape, lighting, and irrigation sprinkler system contractor. Professionally installed automatic irrigation system, low voltage lighting, custom outdoor lighting, automatic lawn watering system, underground sprinkler system, professional night lighting - We can service all your irrigation system installation needs in Washington Metro Area including, Adams Morgan, Capitol Hill, Chevy Chase DC, Cleveland Park, Columbia Heights, Downtown, Dupont Circle, Foggy Bottom, Georgetown, Logan Circle, Mount Pleasant, Woodley Park, Bethesda, Potomac, Rockville and Aspen Hill - top rated, best, good, local